ABOUT US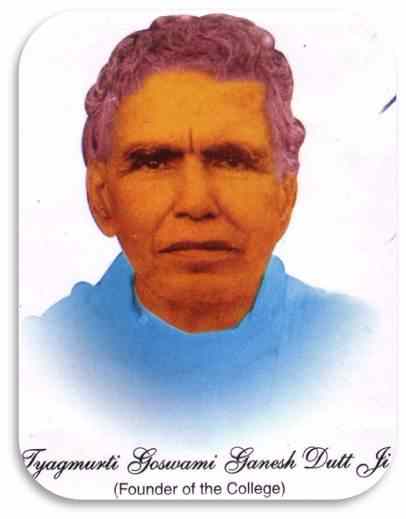 G.G.D.S.D. (Goswami Ganesh Dutt Sanatan Dharam) College, Hariana, with its former name, Hindu National College was originally started in Lyallpur (now in Pakistan) in 1945 by Shri Sanatan Dharma Pratinidhi Sabha (Pb.) New Delhi established by Bharat Ratna 'Mahamana', Pandit Madan Mohan Malviya Ji, one of our greatest national leaders and a philanthropist. After partition, his disciple, 'Tyagmurthi' Goswami Ganesh Dutt ji Maharaj, a man of the masses, whom Gandhi Ji, Pandit Nehru and Dr. Rajinder Parshad always held in high esteem, as the then General Secretary of Shri S.D. Pratinidhi Sabha (Pb.) New Delhi relocated this institution from Lyallpur to Hariana in 1949.

This College is situated in a huge building, offering courses in B.A., B.Sc.(Agriculture & Non-Medical), B.C.A., B.Com., M.A. (Punjabi & History), P.G.D.C.A, P.G. Diploma in Marketing & P.G. Diploma in Applied Agriculture. The College has also started three Vocational Courses: (B.Voc. Banking and Financial Services, B.Voc. Hardware and Networking and Advanced Diploma in Organic Farming). There is a Smart Room with modern facilities. The college has a hostel for women, a fully furnished Gym, Common Rooms for Boys and Girls, well equipped Science and Computer labs. A Solar Power Unit has been installed in the college. The campus of the college is Eco-friendly as there are provisions of Rain Water Harvesting and proper disposal of solid and wet waste. Even students from Hoshiarpur and distant areas love to study here. All this could become possible due to the blessings of the sublime souls and the sagacious guidance of our former president Late Dr. Shiv Kumar, Ex- M.L.A. from Palampur, Himachal Pradesh, present President Dr.Desh Bandhu and Dr. Gurdip Sharma, Secretary, College Managing Committee. The college has progressed in all the spheres under the leadership of Principal Dr. Rajiv Kumar, & able guidance of the Management.

The college organizes various academic and co-curricular activities from time to time and has hosted Fourteen National, Eight State Level Seminars along with One Inter-Zonal, Seven PU Zonal Youth and Heritage Festivals in the recent past.

Physical Infrastructure
The college is going strength to strength day in and day out which is quite visible from the double storey building. The construction work has not stalled since the last more than 20 years and is going on to meet the ever increasing demands arisen on account of increase in the number of courses and strength of students. A new block of Post Graduation library, and Conference Hall have already come up on the college landscape. A new administrative block has been built next to the college hall which consists of the Principal's Office, Administrative Office, Bursar office, Staff Room and Committee Room. The college has been re-accredited by NAAC with 'B+' grade.